From cages to aviaries: practical solutions for poultry house renovations
The trade show world is finally returning to some kind of normal: Big Dutchman will be present live during SPACE 2022, showing both new and classic products as well as smart concepts for modern poultry growing, breeder management and egg production. The German equipment supplier's stand will be located in hall 10, booth E 88.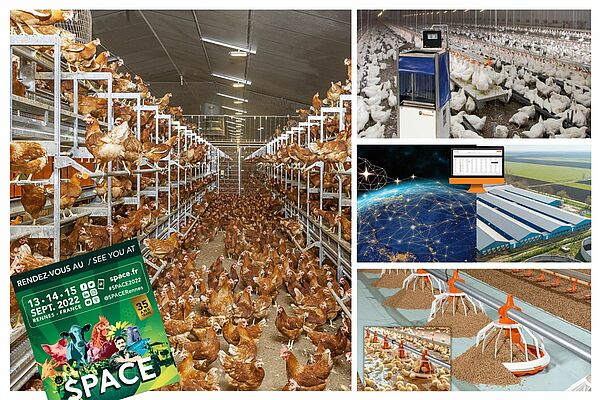 BFN Fusion: The digital platform bundles all relevant value chain data generated on poultry farms so farmers can directly access the data of all their locations – irrespective of the equipment manufacturer. BFN Fusion is a milestone on the road to the digitalisation of agriculture and paves the way for increased efficiency, yield and sustainability of agriculture companies.
FLUXX 330 feed pan for poultry growing with an automatic overflooding mechanism: The new overflooding feature makes the manual distribution of feed with a feed cart or chick paper in the first days of the batch unnecessary.
Mobile grader Heidy: The new scale helps improve the uniformity of young broiler breeders.
Big Dutchman will also show multiple solutions for egg producers who want to switch from cage systems to cage-free aviaries.
"When cage houses are converted for the installation of aviary systems, farmers need to account for production losses. Specific structural limitations and statutory provisions mean that the number of layers permitted in the aviary house is often lower," explains Frank Moormann, Big Dutchman Senior Sales Manager. This aspect frequently causes farmers to worry.
Big Dutchman can offer intelligent solutions for this problem. "We have been developing aviary systems for more than forty years. For nearly the same period, we have worked with our customers to create individual and profitable solutions," says Moormann, referring to the poultry equipment supplier's extensive knowledge in this regard.
Big Dutchman's ongoing research has resulted in the NATURA product family: 30 modular, multi-level aviary models for basically any situation, concepts for barns with intermediate ceiling and options to adjust the ventilation system in layer houses with winter garden and pop holes.
---