Big Dutchman and Charoen Pokphand Group sign two three-million layer projects
Big Dutchman and Charoen Pokphand Group (CP) have recently signed a contract for two three-million layer farm projects located in the Chongming district, Shanghai, and in the Dongchuan district, Kunming, respectively, with a total investment of RMB yuan 1.3 billion. Through this cooperation, the two companies will jointly set new standards for layer farms in China. The globally sourced equipment to be installed at the two farms is state of the art; from feeding, water supply, climate and production control to egg sorting: each house is fully automated and computer-controlled. This will be the second and third large-scale project that CP and Big Dutchman undertake together.
"We would like to express our sincere gratitude to CP for the long-term trust and recognition. We will seize the opportunity to provide the most advanced economic and environmental solutions to help the customer achieve higher output and international development, and fulfill its tenet of 'benefit to the country, benefit to the people, and benefit to the enterprise', said Walter Benz, President and Managing Director of Big Dutchman China.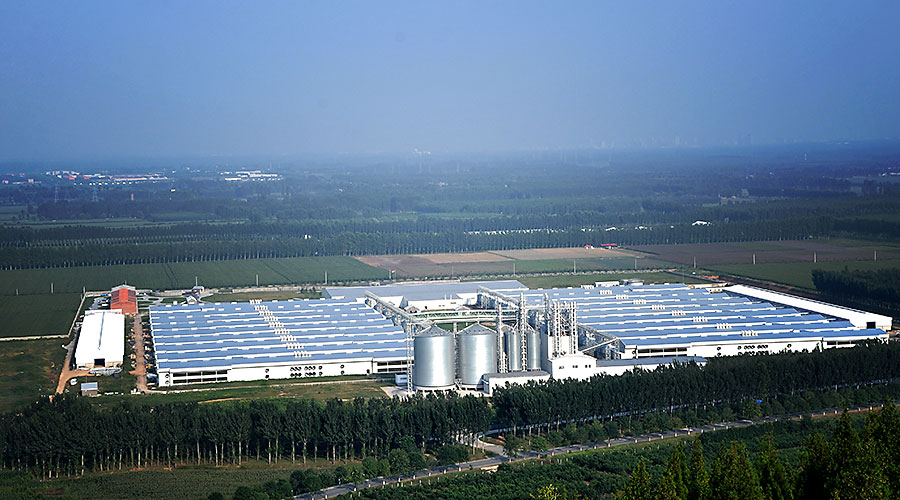 An aerial view of the CP Pinggu project
CP Chongming, Shanghai – three-million layer farm breaks ground
The project is located in the town of Xincun, Chongming, Shanghai, covering an area of 651.5 m2, with a total investment of RMB yuan 751 million. It consists of four independent areas:
a 135 m2 large rearing farm with 850,000 bird places for day-old chicks and pullets;
a 392 m2 large layer farm for 3 million layers, into which the young hens are moved batch by batch;
a crocodile farm covering an area of 30 m2; for the sake of sustainability the reptiles will dispose of the carcasses;
an organic fertilizer plant covering an area of 94.5 m2 is used to produce organic fertilizer from manure.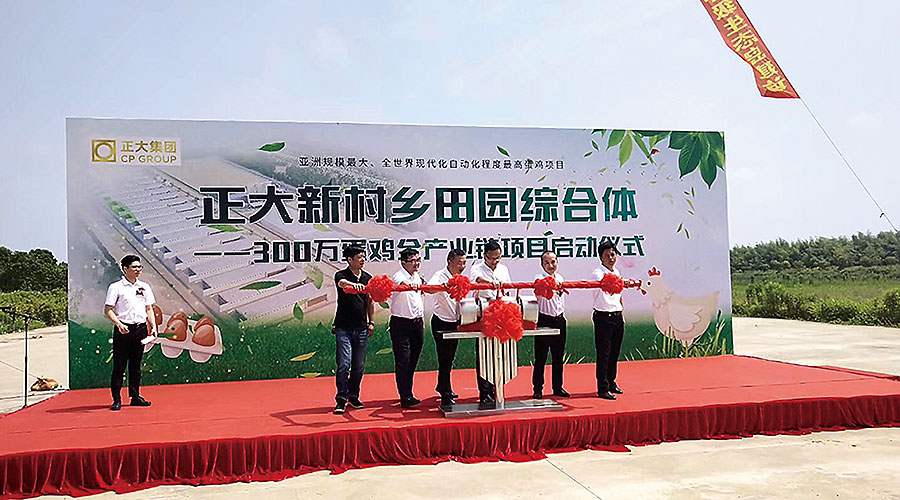 Launching ceremony of CP Shanghai 3 million layer project
Construction started in June 2019 and is expected to be completed by the end of 2020. The first batch of eggs produced will reach the market by mid-2021. With an annual output of 800 million eggs, Chongming farm is supposed to account for 30 to 40 percent of the market share of branded eggs in Shanghai. It will become the largest layer farm in Asia and the most modernized and automated egg production project in the world.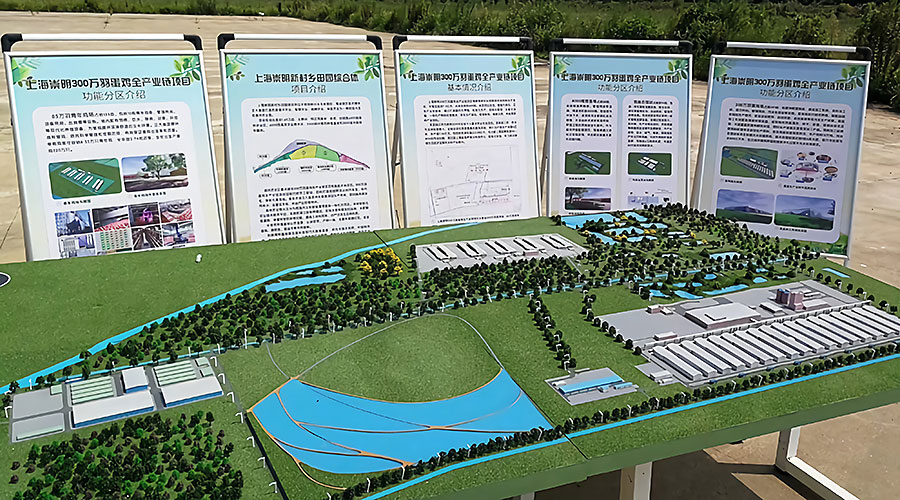 A layout model for the CP Chongming layer project
CP Dongchuan, Kunming – three-million layer poverty alleviation project that covers the entire industry chain
The project is located in the town of Dongchuan, Kunming, in the province of Yunnan. Its investment in fixed assets is about RMB yuan 600 million. It is based on integrated business planning and will be constructed in phases over two years. The operation covers an area of 1,570 m2, including:
a feed mill with an annual output of 120,000 tons;

a pullet farm with one million bird places;

a three-million layer farm with egg grading, packing and deep processing;

a farm for 3,000 crocodiles;

an organic fertilizer plant with an annual output of 60,000 tons.
Groundbreaking ceremony at CP Dongchuan farm
The project will adopt a closed ecological system that covers the whole industry chain. It is a demonstration project aimed at reducing environmental pollution and transforming not only livestock production, but also at positively impacting on the agricultural sector in Dongchuan county and even the entire Yunnan province.
The project's significance lies in its potential to enhance the progress of agricultural industrialisation and the supply side reform in Yunnan. This would help coordination among governments, farmers, the market and society to shape a new pattern of poverty alleviation and a development that features government promotion, farmers in positions of major authorities, driving of the market and social participation.
Charoen Pokphand Group
Charoen Pokphand Group, listed in the global Fortune 500-list, is a Thai conglomerate based in Bangkok. The company is one of the world's largest corporations. It consists of three core businesses that operate in agribusiness and food, retail and distribution and the telecommunications industry. CP's livestock operations are equipped with state-of-the-art farming technology and adhere to the strictest biosecurity programs. The company produces and delivers high-quality and healthy products.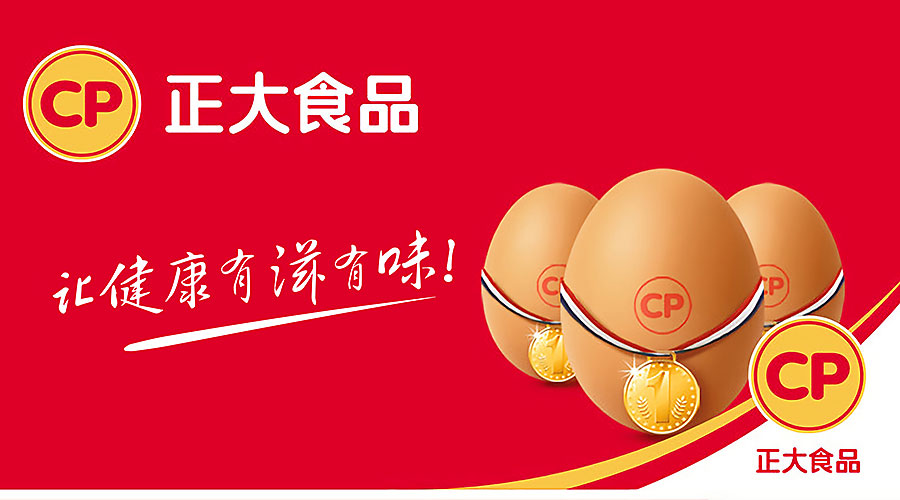 CP Food: Make health tasteful!
CP started its business in modern layer farms in China in 2009. Only three years later, the first project involving three million layers and one million chicks was completed and put into operation in Pinggu, Beijing. All houses are equipped with Big Dutchman equipment for modern egg production, including a manure drying system. The project has realized excellent economic and social benefits since then and remains by far the largest automated layer farm in Asia.
Big Dutchman
Big Dutchman is the world's leading equipment supplier for modern pig production and poultry production. The product range includes traditional and computer-controlled feeding and housing equipment as well as systems for climate control and exhaust air treatment. The scope varies from small to large, fully integrated turn-key farms. Big Dutchman offers its customers all options – from the planning to the commissioning.