New animal welfare barn with Big Dutchman equipment in Bavaria
The Greppmair family from Aichach in Bavaria, Germany, recently started producing eggs and built a very impressive, new poultry house consisting of two compartments. During the day, the 6,000 hens can range outside. Those who prefer staying indoors can use the winter garden for scratching or spend their time in the Natura Nova welfare aviary. All equipment, from the management system to the ventilation system and computer control, was procured from Big Dutchman.
The Greppmair family produces eggs according to the Bioland organic standards, therefore keeping the two flocks completely separate at all times: in the barn, in the winter garden and on the large range.
Natura Nova is just one member of the ever-growing Natura aviary product family. These multi-level systems in which hens can move around freely were first developed because of the ban on cage systems in Switzerland in 1981.
In 1986, the first welfare aviary was handed over to its owner. Today, Big Dutchman's aviary product range includes more than twenty different models. Since no customer and no barn are like the other, Big Dutchman customers and the poultry equipment supplier itself team up to find solutions. In combination with clever ideas for system optimisation, these efforts sometimes lead to the development of a new model.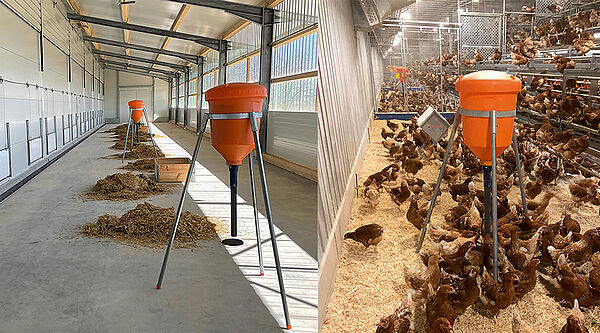 PickPuck is just as popular with the layers as the aviary. The pendulum makes use of the birds' natural behaviour of searching for feed, occupying them because it remains permanently interesting. The Greppmair family has installed a total of ten PickPuck systems in their winter garden.